Personalised hybrid assembly as a Service (PHASE)
A sub-project of the international collaborative research project "Manufacturing and Assembly as a Service (MAaS)".
(Duration: 1 August 2017 to 31 July 2019)
In the smart factory, flexibility is combined with transparency and productivity. In the near future, internet-based business platforms will be able to automatically match the capabilities of smart factories with customer specifications, creating a market not only for products but also for production processes. In this environment, modular production systems will be able to develop their full potential. However, the successful introduction of production systems with these capabilities, as well as their operation, places special demands on communication between all actors at the field and enterprise level, as well as throughout the supply chain.
The aim of the research project is to develop an approach for setting up cyber-physical machines for individualised manufacturing and assembly. To this end, research results from the fields of CPS and cloud technology are being integrated into an international IoT solution as part of the German-Korean cooperation "Manufacturing and Assembly as a Service (MAaS)". On this basis, new services will be introduced for the PDTec company in connection with the personalised delivery, rental and operation of modular production systems. For the validation, application scenarios are implemented on the Korean and German side both on the shop floor level and in the service layer.

As part of the German sub-project "Personalised hybrid Assembly as a Service" (PHASE), the IPS is working with PDTec to develop various services for cyber-physical production systems and validate them with the help of its own hybrid assembly system. For this purpose, the virtual image of these is first generated and expanded with relevant parameters and interfaces before it is transferred into a generic data model. This forms the basis for the personalised provision of information, graphic processing and connection of various web applications. By implementing an interface of the ice.NET and FAaS platforms, the technologies of the sub-projects are integrated within the German-Korean cooperation project MAaS.
Research- and Development Partner
Location & approach
Technische Universität Dortmund
Institut für Produktionssysteme / IPS
Leonhard-Euler-Str. 5
Gebäude MB I
44227 Dortmund
Otto-Hahn-Straße 6
Raum: C1-02-177
(Entry 31)
44227 Dortmund
The facilities of TU Dortmund University are spread over two campuses, the larger Campus North and the smaller Campus South. Additionally, some areas of the university are located in the adjacent "Technologiepark".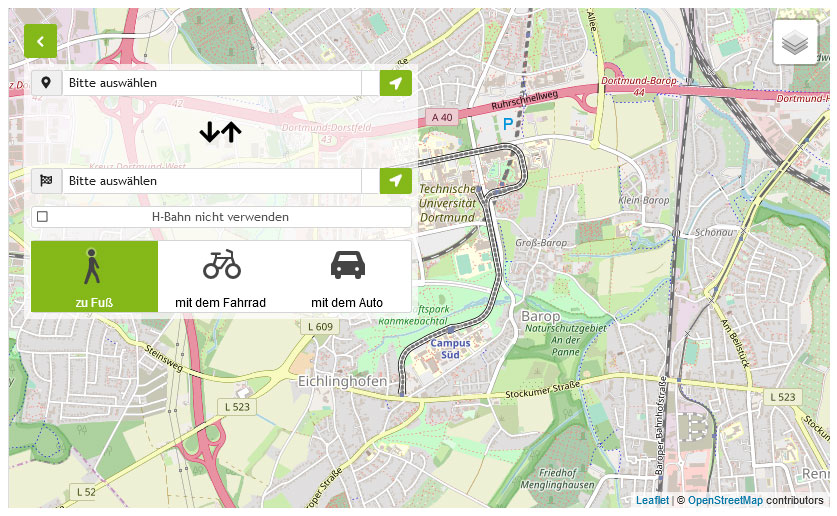 Zum Lageplan