Dritte Sitzung des projektbegleitenden Ausschusses im Forschungsprojekt SyNExo

Die dritte Sitzung des projektbegleitenden Ausschusses im Forschungsvorhaben SyNExo fand am 28.06.22 erstmalig in Präsenz in Dortmund statt. Neben Vorträgen aus Forschung und Industrie erwartete die Teilnehmenden ein interaktiver Workshop zur Erprobung von Exoskeletten auf der Laborfläche des IPS.
Nachdem die ersten beiden Treffen im Forschungsprojekt SyNExo pandemiebedingt online durchgeführt wurden, konnte der Austausch zwischen den Projektpartnern Ende Juni erstmalig persönlich vor Ort stattfinden. An der vom IPS ausgerichteten Veranstaltung nahmen insgesamt 25 Mitglieder des projektbegleitenden Ausschusses teil.
Zu Beginn des ganztägigen Termins wurden neuste Ergebnisse aus einer Laborstudie zum Einsatz von Exoskeletten durch die verantwortlichen wissenschaftlichen Mitarbeitenden vorgestellt und ausführlich in der Gruppe diskutiert. Ergänzt wurden die Erkenntnisse aus der Forschung im Anschluss durch praxisnahen Input von Unternehmen aus der Industrie. Dabei standen in Vorträgen der Firmen Ottobock und Scalefit die Vorstellung neuer Ansätze zur ergonomischen Bewertung von Exoskeletten im betrieblichen Alltag im Mittelpunkt.
Nach einer gemeinsamen Mittagspause mit Möglichkeiten zur weiteren Vernetzung der Projektpartner wurde am Nachmittag ein Workshop mit Testmöglichkeiten für verschiedene Exoskelette durchgeführt. Dabei hatten die Teilnehmenden die Möglichkeit sechs kommerziell verfügbare Systeme selbst an unterschiedlichen Stationen auszuprobieren. Die gesammelten Erkenntnisse über Eigenschaften und Einsatzmöglichkeiten der Exoskelette wurden abschließend gemeinsam in der Gruppe diskutiert.
Aufbauend auf dem reichhaltigen Input aus dem Projekttreffen wird nun im nächsten Schritt ein Quick-Check zur Potentialanalyse hinsichtlich der Anwendung von Exoskeletten in Produktion und Logistik durch das IPS entwickelt. Wir bedanken uns bei den Teilnehmenden für die erfolgreiche Zusammenarbeit. Der projektbegleitende Ausschuss steht auch weiterhin zusätzlichen interessierten Unternehmen offen. Bei Interesse an einem Austausch wenden Sie sich gerne direkt an: SyNExoips.tu-dortmundde
Location & approach
Technische Universität Dortmund
Institut für Produktionssysteme / IPS
Leonhard-Euler-Str. 5
Gebäude MB I
44227 Dortmund
Otto-Hahn-Straße 6
Raum: C1-02-177
(Entry 31)
44227 Dortmund
The facilities of TU Dortmund University are spread over two campuses, the larger Campus North and the smaller Campus South. Additionally, some areas of the university are located in the adjacent "Technologiepark".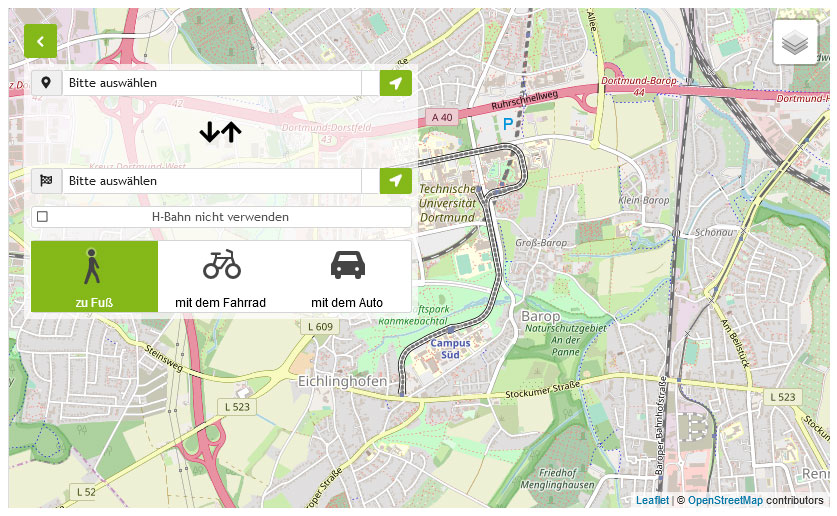 Zum Lageplan