The establishment of a VR Lab (Virtual Reality Lab) at the Institute of Production Systems enables the virtual viewing and processing of various topics. Through VR, the user experiences reality and its physical properties in a computer-generated virtual environment in which it is also possible to interact. The representation offers a wide field of possibilities due to the constant technological advancements and the growing interest of the industry. The VR Lab of the IPS is used to test existing applications and thus to learn about the handling and potential of these new technologies and to use them in a targeted manner.
In addition to enough space to move around freely, the VR Lab also offers the necessary VR hardware. The hardware consists of a powerful computer, desktop screen and the HTC Vive Pro Full Kit VR system. The system consists of a head-mounted display (HMD), which is used to visualise the scene. In addition to the HMD, the user is tracked in space by so-called Steam VR controllers, which are also used to interact with the virtual world. Steam VR base stations are used to delimit the space in which the user can move freely and is tracked.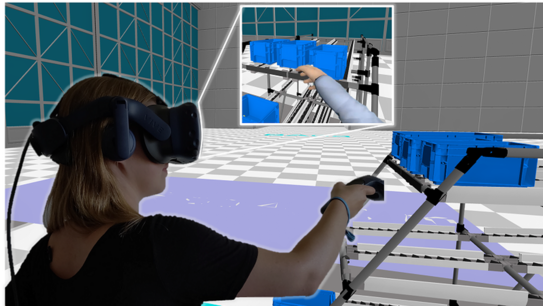 Application Scenarios in Research and Teaching
Various applications, such as 360° videos, virtual scenes for learning processes and scenes for designing workplaces, provide the user with an immersive experience and immersion in the virtual world under desired conditions. The advantages of virtual reality lie, for example, in the representation of systems and products in real size, which enables virtual commissioning and the learning of processes without physical expenditure. Within product and process development, VR can replace physical prototypes or classic cardboard engineering, among other things. In addition to the many possible applications, the use of VR scenes raises various questions, such as how the user can interact with the system in a targeted and intuitive way, but also to what extent several users can work together.