Specialist Laboratory Master's Programme in Industrial Engineering and Management
Design of an Assembly System
The IPS specialist laboratory deals with the planning and design of work systems. The concrete subject of the laboratory experiment is the planning and design of an assembly system for the production of two-stage gearboxes.
Competence Development in a Practical Laboratory Environment
In the laboratory course, you will learn how to use basic tools for work system design in a practical way. This includes, among other things, the use of MTM methods for movement-economic analysis and optimisation of an existing assembly system. You will then coordinate the work content of your work system with the upstream and downstream value stream. Finally, you carry out a consideration of the economic efficiency and compare your workstation with a standard system. After successfully completing the specialised laboratory, you will be able to:
Analyse and design workplaces using MTM methods.
apply common methods of investment appraisal and work system valuation and evaluate different workstation alternatives and make a reasoned decision in favour of a workstation alternative.
carry out a performance adjustment for a work system with several workplaces.
select and describe a suitable material provision strategy for a specific work system.
demonstrate experience in teamwork, organisational management and time scheduling.
practically apply their theoretical knowledge on the design of socio-technical work systems at assembly workplaces.
How does the Specialist Lab work and what requirements do I have to fulfil?
The specialised laboratory is conducted in small groups of four to five students in the IE Training Centre of the IPS and is offered in both the summer and winter semesters. The number of available lab places is limited to 20 per semester. The laboratory experiments usually take place in May (summer semester) and December (winter semester), preceded by a joint introductory event. This is obligatory and is used to update the group allocation. Each student must again register in a list of participants and show a certificate of enrolment in the Master's programme. All students must have transferred to the Master's programme by the introductory event. In the introductory event, the content of the laboratory will also be presented and the final dates will be announced.
If we have aroused your interest, we look forward to welcoming you as part of our specialised laboratory in the coming semester. Please register for this under the following link. (https://moodle.tu-dortmund.de/course/view.php?id=4097)
Location & approach
Technische Universität Dortmund
Institut für Produktionssysteme / IPS
Leonhard-Euler-Str. 5
Gebäude MB I
44227 Dortmund
Otto-Hahn-Straße 6
Raum: C1-02-177
(Entry 31)
44227 Dortmund
The facilities of TU Dortmund University are spread over two campuses, the larger Campus North and the smaller Campus South. Additionally, some areas of the university are located in the adjacent "Technologiepark".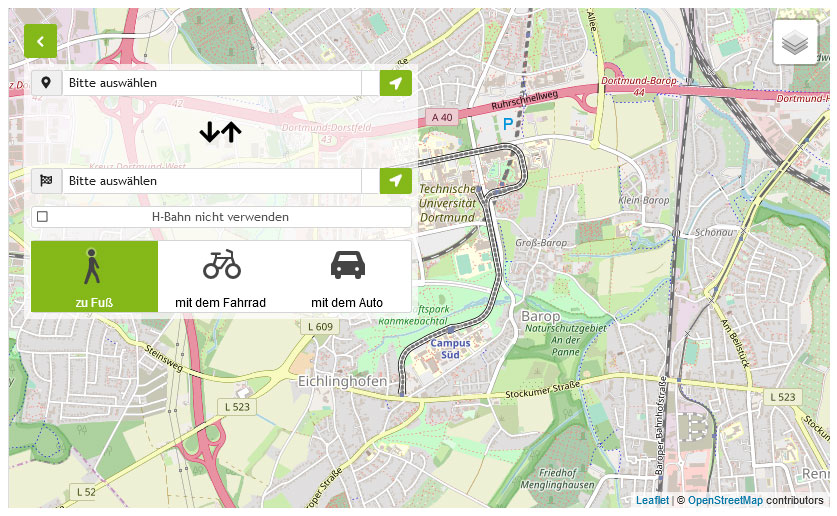 Zum Lageplan