Analyse und Gestaltung von Produktionssystemen gewinnt in Zeiten der vierten industriellen Revolution an Bedeutung
We are the leading experts in designing and optimising production systems
The Institute for Production Systems (IPS), headed by Univ.-Prof. Dr.-Ing. Jochen Deuse and Dr.-Ing. Ralph Richter, has been successfully researching the industrialisation and improvement of production systems of all kinds for more than a decade. With innovative approaches in the areas of Work System Design, Production System Dynamics, Digital Manufacturing and Smart Quality, we raise hidden productivity in manufacturing companies - especially for our customers in all industries. Our broad portfolio in teaching, research and industry provides the right offer for each of our partners - certainly for you too!
Your company has its finger on the pulse and is pursuing innovative ideas? The focus is on the work of the future in your processes, you want to deepen this and are looking for a suitable research partner? We would be happy to assist you as a highly professional cooperation partner in project management and creative and process-oriented research into innovations in collaborative projects of all kinds. In doing so, the IPS relies on a strong link between research and industry. Feel free to contact us to discuss the possibilities of cooperation.
Industrial Contract Research
IPS offers your company - especially SMEs - professional, technological and organisational advice. With our specialised engineers and data scientists, we are the ideal partner for optimising your processes (lean management, work system design, MTM, REFA, production control, technical cleanliness, Six Sigma, etc.) and improving your quality. With a sound scientific background, we work in interdisciplinary teams to address your specific requirements and problems and develop a customised solution for you. We would be happy to inform you about potential forms of cooperation.
As an institute of the Technical University of Dortmund, we are experts in training in the field of industrial engineering along the entire product creation process in the dimensions of people, organisation and technology. If you as a company would like to benefit from this great know-how and train your company's employees in selected subject areas, we are the right contact. In individual training courses, technical and methodological knowledge can be built up and interdisciplinarily linked. In doing so, we always orientate ourselves to your company's specifics.
Our Laboratory space offers optimal conditions to enable realistic training.
If you are looking for a suitable speaker for a specific format in the field of Industrie 4.0, digitalisation and Industrial Data Science, the IPS is the right choice. The institute's management as well as experts in our various fields, just like the numerous contacts in our network, is open to your ideas. Our years of industrial experience combined with professional expertise speak for themselves and for the perfect solution for your individual request.
Location & approach
Technische Universität Dortmund
Institut für Produktionssysteme / IPS
Leonhard-Euler-Str. 5
Gebäude MB I
44227 Dortmund
Otto-Hahn-Straße 6
Raum: C1-02-177
(Entry 31)
44227 Dortmund
The facilities of TU Dortmund University are spread over two campuses, the larger Campus North and the smaller Campus South. Additionally, some areas of the university are located in the adjacent "Technologiepark".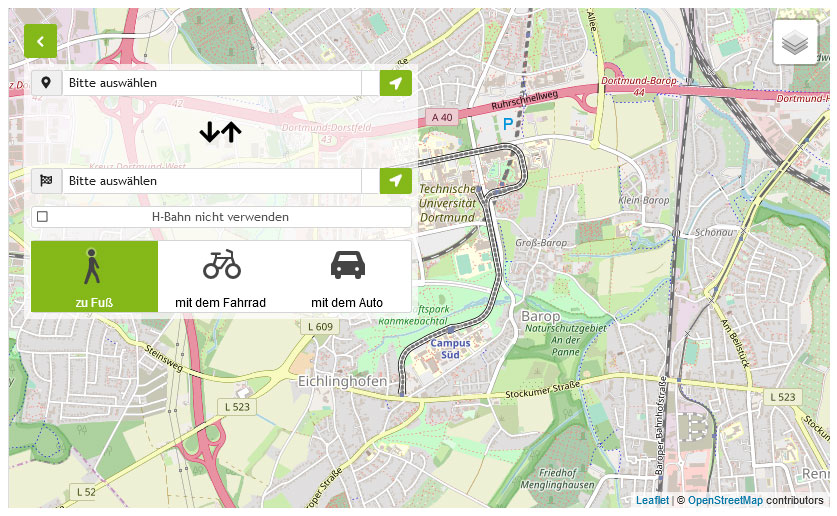 Zum Lageplan