Design of Production Systems (DPS)
The DPS deals with the analysis and improvement of existing production systems and imparts practical methods from the areas of lean, holistic production systems and continuous improvement (CIP) as well as innovative new approaches to the analysis of dynamics and variability in value streams.
Why are the topics of DPS so relevant?
The increasing trend towards individual products and shorter product life cycles poses new challenges for production. Production as a place of value creation is the center of manufacturing companies. Only production that is tailored to market conditions ensures the competitiveness of companies and enables short lead times.

Why should students take the DPS?
Within the course you will receive as a student(s) of the course mechanical engineering or industrial engineering the opportunity to establish a basic understanding of the relationships in production systems and meet demand of lean management methods.
In the event, the principles of the Toyota production system and lean management are conveyed as well as concrete methods for minimizing set-up times (SMED) and analyzing value streams. These topics are enriched by the inclusion of the variability in the value stream, bottleneck consideration as well as extended methods for performance coordination and production planning and control (PPS). The aim is to impart knowledge about the design of optimal processes in production.
Historical origins of today's Production Systems and the Toyota Production System
Basics of Holistic Production Systems
Value Stream Analysis and Design
Process Orientation and Pull Principle
Dynamic Bottleneck Identification
Laws in Production Systems
Production Planning and Control (Kanban, ConWIP, etc.)
Error Prevention and Total Productive Maintenance (TPM)
Quality Management
Visual Management and Key Figures
Kaizen and Continuous Improvement (CIP)
Location & approach
Technische Universität Dortmund
Institut für Produktionssysteme / IPS
Leonhard-Euler-Str. 5
Gebäude MB I
44227 Dortmund
Otto-Hahn-Straße 6
Raum: C1-02-177
(Entry 31)
44227 Dortmund
The facilities of TU Dortmund University are spread over two campuses, the larger Campus North and the smaller Campus South. Additionally, some areas of the university are located in the adjacent "Technologiepark".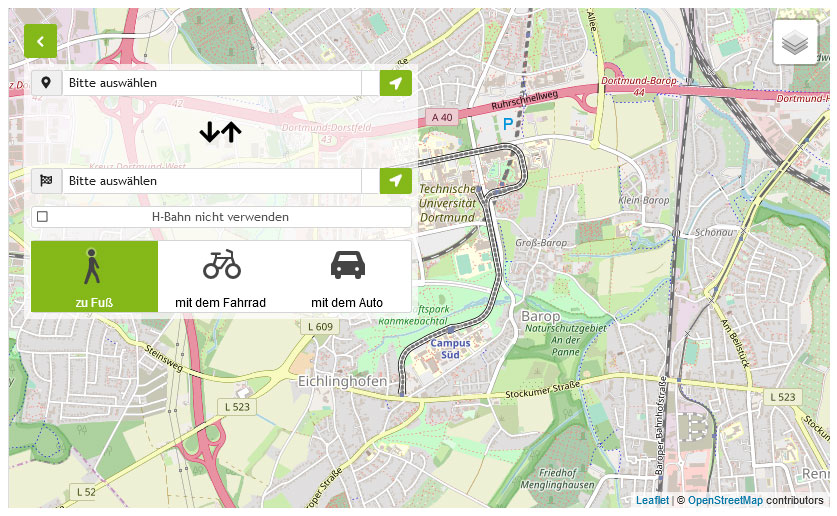 Zum Lageplan