Neue Veröffentlichung im Rahmen des Forschungsprojektes Taktarbeit-Montage erschienen
-

Im Rahmen des Forschungsprojekts "Integration tätigkeitsspezifischer Belastungswechsel zur Verringerung der physischen Beanspruchung bei Taktarbeit" wurde ein zweiter wissenschaftlicher Beitrag im Peer-Review-Verfahren veröffentlicht. In diesem wird die Vorstudie des Projektes mit ihren Ergebnissen vorgestellt.
Der internationale Beitrag "Exploratory pilot study for the integration of task-specific load alternation into a cyclic assembly process" wurde bei der Wissenschaftlichen Gesellschaft Montage Handhabung Industrierobotik (MHI e.V.) eingereicht. Die MHI ist ein Zusammenschluss von aktuell 24 leitenden Universitätsprofessor*innen mit dem Ziel durch kontinuierliche Kooperation die Forschung im Bereich Montage, Handhabung und Industrierobotik effizienter zu gestalten und die internationale Wettbewerbsfähigkeit der deutschen Industrie nachhaltig zu stärken. MHI-Paper werden zur Sicherstellung einer hohen wissenschaftlichen Qualität einem Peer-Review-Verfahren unterzogen, in dem die Arbeit durch unabhängige Gutachter desselben Fachgebiets geprüft wird.
Als Plattform für den fachlichen Austausch stellen Kolloquien der MHI eine Basis für die gemeinsame Diskussion zu Forschungsfragen und wissenschaftlichen Ansätzen dar. Darüber hinaus wird die Bildung von Netzwerken unter den Wissenschaftler*innen aktiv gefördert. Im Rahmen des 7. MHI Fachkolloquiums am 20./21. Juli 2022 in Karlsruhe wurde die zweite Veröffentlichung zum Forschungsprojekt vorgestellt. Dabei erhielt der vorgestellte Beitrag eine durchweg positive Resonanz von Seiten der Teilnehmenden.
Das durch die Deutschen Gesetzlichen Unfallversicherung (DGUV) geförderte Forschungsprojekt wird unter Zusammenarbeit mit dem Institut für Arbeitsmedizin, Sozialmedizin und Versorgungsforschung des Universitätsklinikums Tübingen bearbeitet. In dem Projekt wird der Effekt von Belastungswechseln in repetitiven Prozessen untersucht, um diese gezielt zur Prävention muskuloskelettaler Beschwerden und Erkrankungen einzusetzen. Dazu ist das Projekt in mehrere Bearbeitungsschritte aufgeteilt. Die ersten Schritte des Projekts einschließlich einer durchgeführten Pilotstudie wurden nun im Rahmen des wissenschaftlichen Beitrages veröffentlicht.
Für weitere Informationen gelangen Sie hier zur Informationsseite des Forschungsprojektes "Taktarbeit – Montage" sowie hier zur Homepage der MHI.
Location & approach
Technische Universität Dortmund
Institut für Produktionssysteme / IPS
Leonhard-Euler-Str. 5
Gebäude MB I
44227 Dortmund
Otto-Hahn-Straße 6
Raum: C1-02-177
(Entry 31)
44227 Dortmund
The facilities of TU Dortmund University are spread over two campuses, the larger Campus North and the smaller Campus South. Additionally, some areas of the university are located in the adjacent "Technologiepark".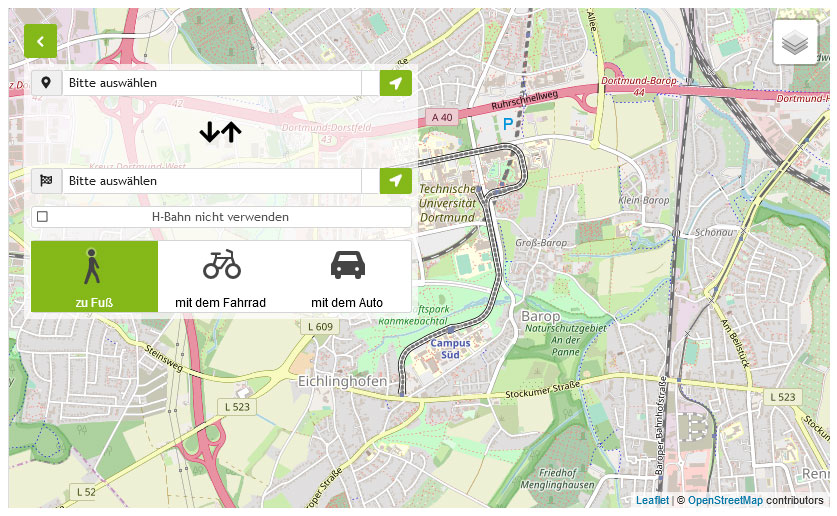 Zum Lageplan