New article published as part of the Taktarbeit-Montage research project
-

A second peer-reviewed scientific paper has been published as part of the research project "Integration of activity-specific load alternation to reduce the physical demands during takt work". This presents the preliminary study of the project with its results.
The international contribution "Exploratory pilot study for the integration of task-specific load alternation into a cyclic assembly process" was submitted to the Wissenschaftlichen Gesellschaft Montage Handhabung Industrierobotik (MHI e.V.). The MHI is an association of currently 24 leading university professors with the goal of making research in the field of assembly, handling and industrial robotics more efficient and sustainably strengthening the international competitiveness of German industry through continuous cooperation. To ensure high scientific quality, MHI papers are subjected to a peer review process in which the work is examined by independent reviewers from the same field.
As a platform for professional exchange, MHI colloquia provide a basis for joint discussion of research questions and scientific approaches. In addition, the formation of networks among scientists* is actively promoted. The second publication on the research project was presented at the 7th MHI Specialist Colloquium on 20/21 July 2022 in Karlsruhe. The presented contribution received a consistently positive response from the participants.
The research project, which is funded by the German Social Accident Insurance (DGUV), is being conducted in collaboration with the Institute for Occupational Medicine, Social Medicine and Health Services Research at the University Hospital of Tübingen. The project is investigating the effect of load alternation in repetitive processes in order to use them specifically for the prevention of musculoskeletal disorders and complaints. For this purpose, the project is divided into several processing steps. The first steps of the project, including a pilot study, have now been published in the scientific paper.
For further information, please click here to visit the information page of the research project "Taktarbeit - Montage" and here to visit the homepage of the MHI.
Location & approach
Technische Universität Dortmund
Institut für Produktionssysteme / IPS
Leonhard-Euler-Str. 5
Gebäude MB I
44227 Dortmund
Otto-Hahn-Straße 6
Raum: C1-02-177
(Entry 31)
44227 Dortmund
The facilities of TU Dortmund University are spread over two campuses, the larger Campus North and the smaller Campus South. Additionally, some areas of the university are located in the adjacent "Technologiepark".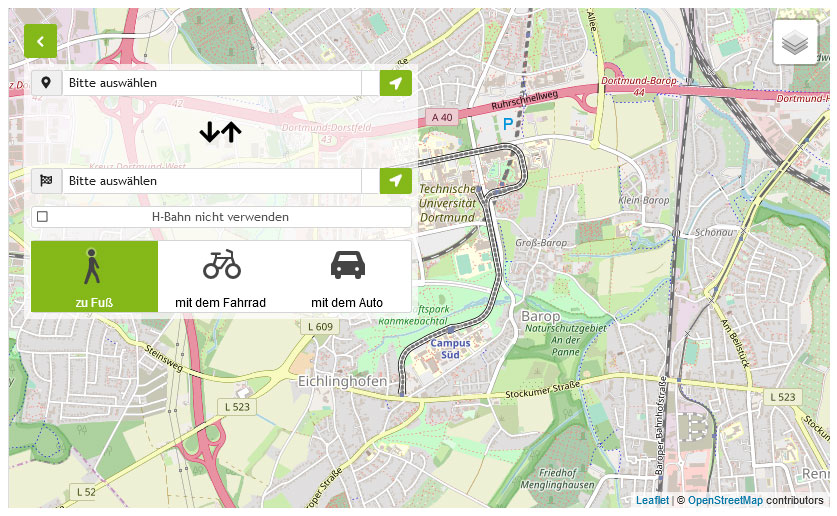 Zum Lageplan