Robot-based Sheet Metal Forming of Complex Components in Small Quantities
In March 2007, the joint project ROBOFORMING with ten partners from industry and research coordinated by ASA GmbH was successfully launched with a kick-off meeting at the Ruhr University Bochum.
To create an integrated solution according to the motto "from the CAD model to the individual sheet metal component", the project consortium consists of partners from different disciplines. From the scientific side, the Chair of Production Systems at the Ruhr University Bochum will contribute its expertise from the ongoing research work on the roboforming process and the chair's own test facility. The Institute for Robot Research at the Technical University of Dortmund is providing the basics for the information technology generation of the robot programmes based on CAD data. In addition to the two research institutes, the Industrieverband Blechumformung e.V. (Industrial Association for Sheet Metal Forming) is also taking on the responsibility for the project, with the help of its competence network, is also responsible for the dissemination of the results in addition to the transfer of knowledge for the benefit of collaborative project partners and association members.
Location & approach
Technische Universität Dortmund
Institut für Produktionssysteme / IPS
Leonhard-Euler-Str. 5
Gebäude MB I
44227 Dortmund
Otto-Hahn-Straße 6
Raum: C1-02-177
(Entry 31)
44227 Dortmund
The facilities of TU Dortmund University are spread over two campuses, the larger Campus North and the smaller Campus South. Additionally, some areas of the university are located in the adjacent "Technologiepark".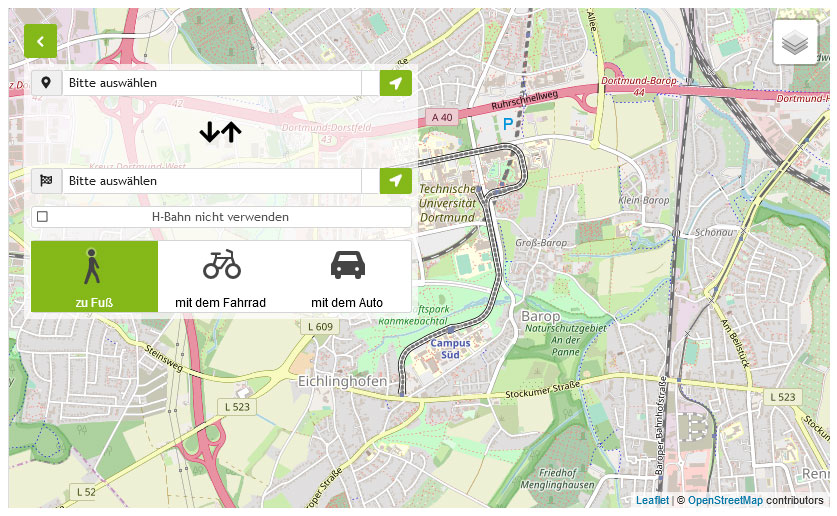 Zum Lageplan