EUPHORIC
12/01/2021 - 11/30/2023
Equipment behaviour catalogues for virtual production systems (Project processing is carried out by RIF e.V., Production Sys­tems Department)
In order to achieve a high efficiency in the design and reconfiguration of production systems, it is necessary to simulate the behaviour of plants and equipment in advance and during operation in the sense of the digital twin.
For viable results, the use of interdependent information on product, process and resource (PPR) is indispensable.
In this context, static engineering data alone is not sufficient, but must also be supplemented by dynamic data from current operations. Although these aspects are addressed by Industry 4.0, the lack of international standards has so far prevented the comprehensive implementation for machine constructors, suppliers and software vendors as well as manufacturing companies.
The aim of the EUPHORIC project is to combine existing preliminary work on the PPR approach of the Production Lifecycle Information Management (PLIM) working group of the prostep ivip association and the Cyber-System Connector (CSC) and Personalised hybrid assembly as a Service (PHASE) research projects and to prepare them for the standardisation of Equipment Behaviour Catalogues (EBC) within the framework of ISO 16400.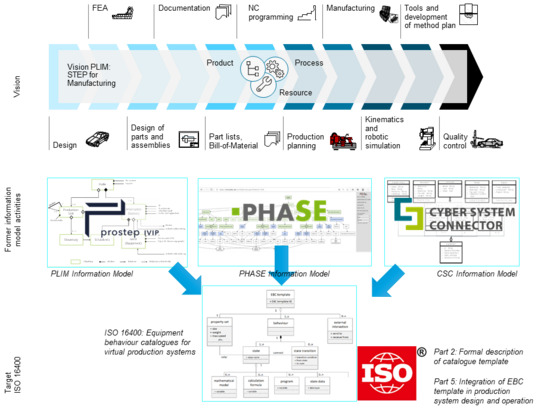 Procedure and Division of Labour
For this purpose, RIF, in joint responsibility with PDTec for the second part of ISO 16400 (Part 2: Formal description of catalogue template), will take the editor role of EBC templates in the form of an information model as a description standard for the behaviour of industrial production systems and their equipment. The unified description form ensures a cross-application and software-independent data exchange as well as a common, homogeneous data management. This will enable the simulation and verification of future industrial processes as well as the monitoring of current ones. In addition, the development of a New Work Item Proposal (NWIP) for a Part 5 to embed the EBC templates in the production system design and customer order process is being planned.
Research, Development and Application Partners
The EUPHORIC research project is funded by the Federal Ministry of Economics and Climate Action (BMWK) as part of the programme "WIPANO - Knowledge and Technology Transfer through Patents and Standards" (funding code 03TN0039A) and supervised by tProject Management Jülich (PtJ).