Change Management bei der Einführung von Exoskeletten

Am 7. April 2022 veranstaltet das IPS in Kooperation mit der mosaiic GmbH einen Workshop zum Change Management bei der Einführung von Exoskeletten in Produktion und Logistik. Dabei sollen mit den teilnehmenden Unternehmen Erfahrungen mit dem Einsatz von Exoskeletten diskutiert werden, um Erfolgsfaktoren bei Pilotprojekten zu ermitteln.
Der mögliche Nutzen von Exoskeletten zur Entlastung von Beschäftigten in Produktion und Logistik wurde bereits in einer Vielzahl von Laborstudien aufgezeigt. Damit die Systeme aber auch ihr Potenzial zur Gesunderhaltung von Mitarbeiter*innen entfalten können, spielt neben der Wirkung auch die Akzeptanz der Exoskelette eine entscheidende Rolle. Nur wenn Beschäftigte objektiv wie subjektiv von den Systemen überzeugt sind, werden diese regelmäßig zum Einsatz kommen.
Eine Möglichkeit die Akzeptanz bei Nutzern im Arbeitskontext positiv zu beeinflussen ist das Change Management. Im Rahmen des Forschungsprojektes SyNExo wollen wir uns diesem Thema gemeinsam mit der mosaiic GmbH daher nun genauer widmen. In dem gemeinsamen Online-Workshop "Der Faktor Mensch in Exoskelettprojekten" möchten wir mit interessierten Unternehmen u.a. folgende Fragen diskutieren:
Welche Erfahrungen wurden beim Einsatz von Exoskeletten gemacht?
Welche Erfolgsfaktoren bestehen für einen nachhaltigen Einsatz?
Welche Maßnahmen müssen ergriffen werden, damit die Menschen von Beginn an mitgenommen werden?
Der Workshop findet am 07.04.22 online von 15:00 – 17:00 Uhr statt. Die Teilnahme steht dabei allen Unternehmen mit einem Interesse an der Thematik offen. Für weitere Informationen sowie die Zugangsdaten zum Meeting wenden Sie sich gerne direkt an SyNExoips.tu-dortmundde
Location & approach
Technische Universität Dortmund
Institut für Produktionssysteme / IPS
Leonhard-Euler-Str. 5
Gebäude MB I
44227 Dortmund
Otto-Hahn-Straße 6
Raum: C1-02-177
(Entry 31)
44227 Dortmund
The facilities of TU Dortmund University are spread over two campuses, the larger Campus North and the smaller Campus South. Additionally, some areas of the university are located in the adjacent "Technologiepark".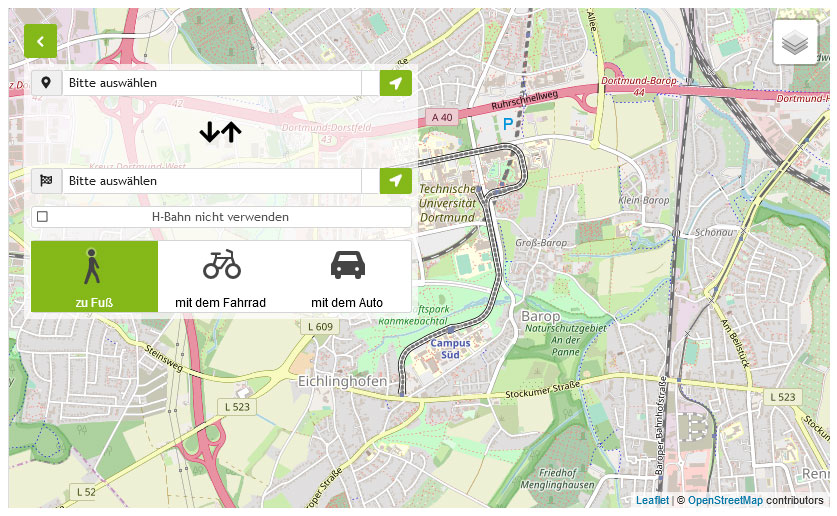 Zum Lageplan