Change Management in the introduction of exoskeletons
-

On 7 April 2022, the IPS in cooperation with mosaiic GmbH will hold a workshop on change management in the introduction of exoskeletons in production and logistics. Experiences with the use of exoskeletons will be discussed with the participating companies in order to identify success factors in pilot projects.
The potential benefits of exoskeletons for relieving the strain on employees in production and logistics have already been demonstrated in a large number of laboratory studies. However, in order for the systems to develop their potential for keeping employees healthy, acceptance of the exoskeletons plays a decisive role in addition to their effect. Only if employees are objectively and subjectively convinced by the systems will they be used regularly.
One way to positively influence user acceptance in the work context is change management. As part of the SyNExo research project, we want to take a closer look at this topic together with mosaiic GmbH. In the joint online workshop "The human factor in exoskeleton projects", we would like to discuss the following questions with interested companies:
What experiences have been made with the use of exoskeletons?
What are the success factors for sustainable use?
What measures need to be taken to ensure that people are involved right from the start?
The workshop will take place online on 07.04.22 from 15:00 - 17:00. Participation is open to all companies with an interest in the topic. For further information and access data for the meeting, please directly contact SyNExoips.tu-dortmundde
Location & approach
Technische Universität Dortmund
Institut für Produktionssysteme / IPS
Leonhard-Euler-Str. 5
Gebäude MB I
44227 Dortmund
Otto-Hahn-Straße 6
Raum: C1-02-177
(Entry 31)
44227 Dortmund
The facilities of TU Dortmund University are spread over two campuses, the larger Campus North and the smaller Campus South. Additionally, some areas of the university are located in the adjacent "Technologiepark".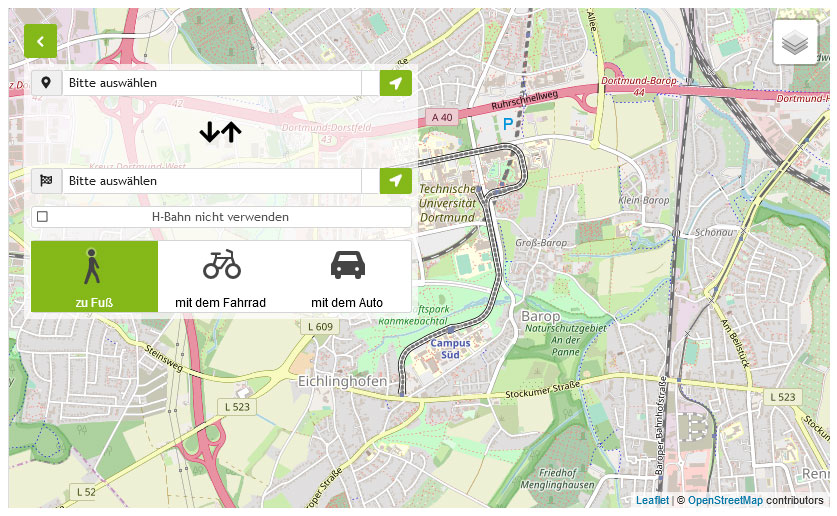 Zum Lageplan