Successful completion of the measurement series in the Takt Work –Assembly research project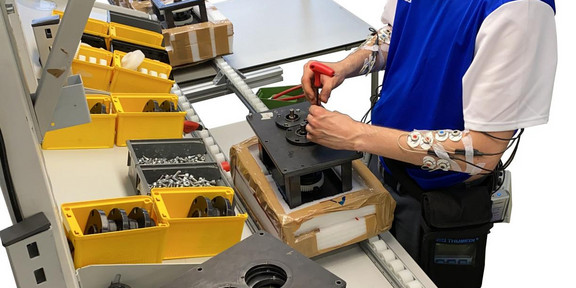 The research project "Integration of activity-specific load alternation to reduce the physical demands during takt work" has reached another milestone with the successful completion of the second series of measurements. Until the end of the project period in August 2022, the next steps will be the evaluation of the collected measurement data and the transfer of the findings into a methodological approach.
For the targeted prevention of work-related musculoskeletal disorders, the current research project Takt Work - Assembly is investigating the benefits of load changes to reduce physical stress. On the basis of a laboratory study, criteria are to be determined and transferred into a methodological approach that should enable companies to integrate specific load changes when redesigning or adapting takt-based workplaces. More than 40 test persons participated in the series of measurements, which was successfully completed on 20.05.2022 and took place in the laboratory of the Institute of Production Systems. The test persons took part in the measurements on two days at intervals of about one week and carried out an assembly process for a duration of two and a half hours without interruption on both dates.
After an initial introduction and a query about exclusion criteria, the project partners from the Institute of Occupational Medicine, Social Medicine and Health Services Research (IASV) at the University Hospital of Tübingen initially applied measurement technology to the test persons. In addition to recording the heart rate, this made it possible to record muscular stress with the help of surface electromyography and accelerations in the upper extremities during the assembly. Subsequently, the participants of the study were introduced to the assembly process via a training concept and the process execution was brought to a uniformly fast and error-free level. After a short break, the two-and-a-half-hour measurement was carried out, during which the subjects' perception of exertion and complaints were questioned at regular intervals.
The test persons carried out the same process in two different process sequences on the different dates of their participation, whereby in a reconfigured sequence, under the premise of an unchanged work system design, an increased number of load changes is achieved in the same target time. The next step in the research project is to compare the two assembly sequences with regard to various parameters associated with a risk of musculoskeletal complaints. The aim is to prove that load changes to increase the load variation in cycle work are a possible contribution to the prevention of musculoskeletal disorders without any restrictions on productivity.
You can find more information about the project here.