High-speed Quality Inspection for Sheet Metal Outer Skin Components

Modern presses used in sheet metal forming can produce 40 to 72 complete outer skin parts, such as door panels, per minute. The visibility of surface defects represents the decisive quality criterion for outer skin parts. In the context of international competitive pressure, a 100% inspection of the surface after the forming process would be of great economic interest. With the current technical means, however, it is only possible to randomly inspect the components.
Frequently, inspections with regard to surface quality are still carried out completely manually and subjectively by grinding, scanning or oiling the components. The aim of the project is therefore a fully automated robot-supported 100% inspection of sheet metal outer skin components within the production line.

The ABIS II system from Steinbichler Optotechnik GmbH is a patented measuring system that was developed for the detection of defects on outer skin parts in automotive construction. However, the current system, based on a standard robot and the ABIS II sensor, is only suitable for examining random samples. To extend the system for 100% inspection in the production line, the existing sensor is to be combined with a high-speed robot. The components are normally transported at high belt speeds, so another focus of the project is synchronisation with these belts. In order to optimise the performance of the system, the software will be extended to include automated determination of measurement time-optimised measuring points. Furthermore, the software will be used to split up extensive measuring tasks in a multi-robot system. A system for fully automatic 100% inspection would enable a considerable leap in quality in the automotive industry and industries with similar components.
Research- and Development Partner
Steinbichler Optotechnik GmbH
The ZIM project HoQaB is funded by the German Federal Ministry of Economics and Technology through the AiF as part of the Central Innovation Programme for Medium-sized Enterprises on the basis of a resolution of the German Bundestag.
Location & approach
Technische Universität Dortmund
Institut für Produktionssysteme / IPS
Leonhard-Euler-Str. 5
Gebäude MB I
44227 Dortmund
Otto-Hahn-Straße 6
Raum: C1-02-177
(Entry 31)
44227 Dortmund
The facilities of TU Dortmund University are spread over two campuses, the larger Campus North and the smaller Campus South. Additionally, some areas of the university are located in the adjacent "Technologiepark".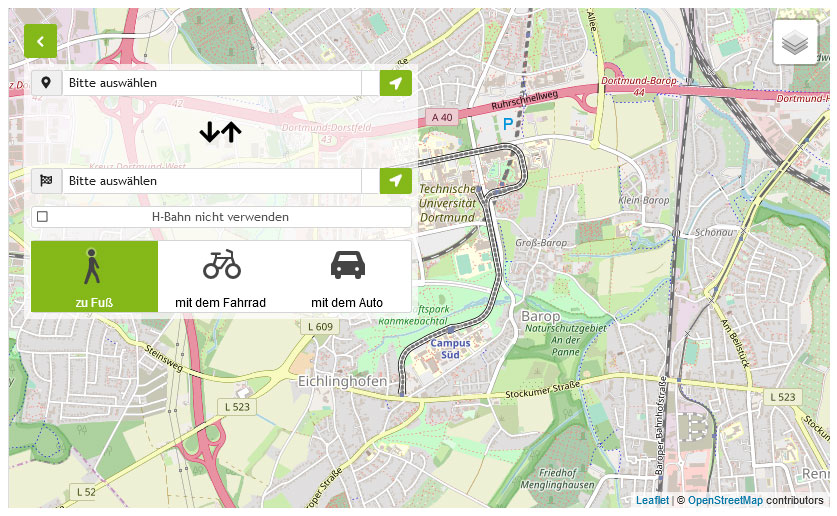 Zum Lageplan